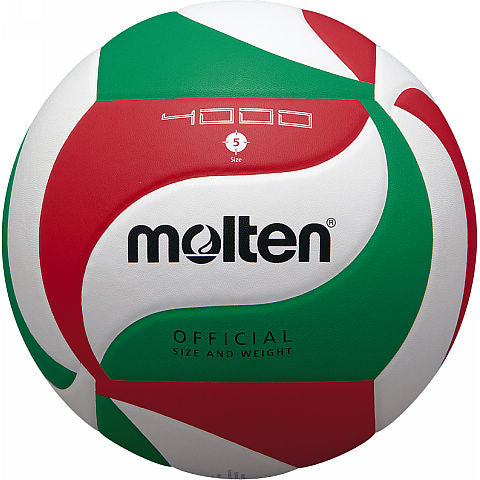 Molten V5M4000 VOLLEYBALL -
Molten V5M4000 VOLLEYBALL
*Be Original, Buy Original*

Set the volleyball court ablaze with the Molten V5M4000 Volleyball. For smooth, accurate play and unbeatable durability, this quality thermal bonded volleyball is the quality choice. 
Perfect volleyball for club trainings, meets all the FIVB requirements, cover made of very soft syntethic leather makes the ball extremely playing friendly.
Number of Panels: 18

Cover Material: PU Leather

Bladder: Butyl

Construction: THERMAL BONDED 
Size 5, circumference  65 – 67 cm, weight 260 – 280 g
The Molten Volleyball design enhances visibility on the court making it a joy for players & spectators alike.

One of the best quality match - training balls around, this is an awesome ball which can endure daily training & also double as a matchball.
Top quality school & club match volleyball with improved rotational visibility. Replica notch down from the V5M4500 model.

Manufactured in laminated PU leather with butyl bladder
Official size and weight

*Note - when inflating ball with a pump it is critical that the needle is lubricated before insertion. We suggest soft soap would be a suitable substance.

Live Life, Live Sports
facebook.com/www.ArcadeSports.sg


---
We Also Recommend