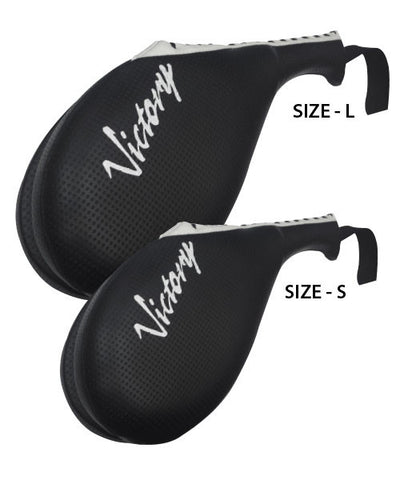 Martial Art Hand Target 'SUPERIOR' (DOUBLE Clapper pad) -
Victory
is ever improving on the traditional hand mitt with its years of experience.
Double hand mitt for speed kick training is made up of a top quality double sided 3.5cm foam pads, split into two (clappers) and carefully stitched together for a highly durable finish.
When the pads are hit it, reacts with a rebound against one other to produce a snap effect.
Comes with an elastic band at the end of the handle.
Features: -
- Highly durable.
- Sleeker  & with a better/durable grip.
- Nylon strap attached to the handle.
- The elastic wristband offers you a secure fit for all workouts.
- Material : PVC
Small Size:
Length: 39cm
Height: 18cm
Large Size:
Length: 43cm
Height: 20cm.


---
We Also Recommend