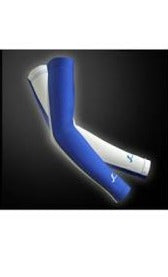 Juuze Catalyst Arm Sleeve +++
Wellness
Juuze arm sleeves are made from superior quality fabric that contains anti-bacteria properties which reduce odour and allergy. It also comes with UV protection against the harmful effects of the sun (UPF 50).
Optimal Performance
Juuze arm sleeves feature gradient compression technology that boost athletic performance and support for key areas thus minimizing muscle vibration and risk of injury.
Comfort
The Catalyst series of arm sleeves is specially engineered to provide extra comfort and coolness to take your game anywhere under the sun. 
It comes with moisture management wicking feature which draws away perspiration quickly leaving you dry and cool.  This process allows the body to regulate its temperature naturally which helps to prevent sprains and injuries.
Juuze arm sleeves also come with anti-slip arm band that provides good traction to hold arm sleeves in place for motion engagement. 
Fashion/Lifestyle
Our unique two-color combination design provides the option of matching your attire to the way you like it to be. 
Juuze arm sleeves incorporate not only high-end features but also fashion in sports' attire. These colors/designs are specially integrated into our fabric that will ensure no shrinkage and color runs after wash. 


---
We Also Recommend