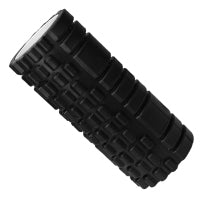 Grid Yoga Rollers -
Aids flexibility, muscle definition and balance while bringing immediate relief to muscle pain. Foam rolling, massages the body thus relieving stress, rehabilitating muscles and inflamed tendons. 
- Non-slip, grippy surface that prevents from sliding, hence improving the accuracy of the movement.
- For muscle tension and stress, balance exercises working the abdominal muscles, lower back, buttocks, hips, knee and feet. 
- To accelerate muscle recovery after extensive training & for rehabilitation and chronic pain in the neck, back, legs etc.
- Improves core strength, balance and coordination. 
- Sanitize with damp cloth and mild soap. 
- Material: EVA Foam. 
- Size: 5.5"x 13" approx.
Improves blood circulation and releases muscles tension and tightness.

Spikes can further release specific myofascial regions.

Assists in body support and trains core muscle strength.


IMPROVE MOBILITY & ENHANCE RECOVERY - Helps to increase circulation to sore and tight muscles, providing relief from pain. Perfect for myofascial release, trigger point therapy and deep tissue massage throughout the body


RECOVER FASTER AND FEEL BETTER - Great for CrossFit, Yoga, Pilates, Weight Training, Rugby, Football, Bodybuilding, boxing and MMA - A valuable massage roller for all sports and exercise enthusiasts!


FULL BODY RELIEF - Premium quality dense EVA foam roller with diamond design bumps- Ideal for reducing soreness and discomfort in your back, legs, neck, IT-Band and shoulders. Regular use may help to facilitate post workout recovery, prevent injuries and assist greatly with injury rehabilitation. 
Use your foam roller for yoga, pilates classes or working out in the gym



We appreciate that it's not always easy to know how to use a foam roller, so do speak to us & help us help you!


---
We Also Recommend