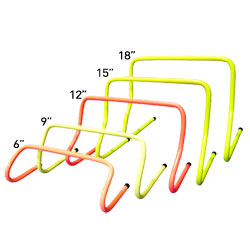 Agility Speed Hurdles -
Hurdle agility drills are an excellent way to improve foot speed, agility, coordination and overall quickness & they are an integral part of many SAQ programs and compliment many different sports and events.
Speed agility drills are about quality and form rather than producing overload & the drills aren't meant to leave one fatigued or breathless.
Better performed at the start of a session after the warm up where muscles should be fresh to ensure good quality of movement. Since they don't exhaust one, resistance or endurance training can still be done after.
Available as 6, 9 12 or 18 inches height

Durable all weather PP material
Sold in individual units
Speak to us on the multitude of drills that we can share to cater to your individual needs with these equipment, with our experienced in-house track & field / hockey and S&C coaches!


---
We Also Recommend