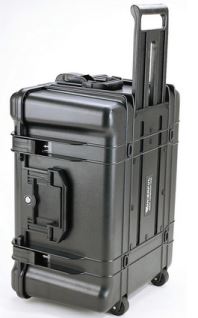 Hardcase Luggage - Carrier Case Equipment Bag PC5626WN -
53cm X 36cm X 21cm - with wheels
High strength, high impact resistance, and waterproof seal against  moisture, dust. Comes with hardware box sponge (or guard interval),  ideal for delicate professional equipment storage.

Widely used in sports & physical education, public security, fire protection, counter-terrorism, the military (cross-sea combat), many areas of aviation, outdoor photography, field trips, scientific exploration etc; where carefully protection of precious equipment is necessary.
Solid construction : box using a high impact polymer material made from injection moulding under tough compression for heavy duty performance.

Seal : flat type flexible sealing foam rubber strip to ensure a waterproof airtightness for high protection against the elements.

Durable : hinged with stainless steel for durability against corrosion.
Multi-purpose : the normal operating temperature range of -25°C to +80°C; optional moisture cards can be used, to achieve low humidity preservation; or according to the actual needs of optional accessories to meet various special requirements. (Moisture cards are specific to equipment, and does not come with this box)


---
We Also Recommend